GE Krautkramer Lab Tank Series
GE Krautkramer Lab Tank to elastyczna, wielofunkcyjna, ultradźwiękowa wanna przeznaczony dla laboratoriów wymagających wysokiej dokładności w badaniach NDT.
Dzięki konfiguracji do 5 osi, zbiornik GE Krautkramer Lab sprawia, że urządzenie jest w stanie przebadać płaskie i okrągłe części, używając rolek, talerza obrotowego lub płaskiej powierzchni w celu ich utrzymania i / lub przemieszczenia. Obrotowa oś Z sprawia, że mamy możliwość badania również części cylindrycznych. Obudowa oraz kurtyny świetlne sprawiają że zbiornik ten jest w pełni bezpieczny. Zbiornik GE Krautkramer Lab jest oznaczony znakiem CE, certyfikowany przez EMC i spełnia standard SEP1927 w celu określenia makroskopowego stopnia czystości prętów stalowych walcowanych / kutych.
Zbiornik laboratoryjny dostępny jest w 2 rozmiarach: o objętości skanowania 750x500x350mm, oraz mniejszy 500x500x300: wielokanałowa konwencjonalna jednostka GE USIP40 wyposażona jest w najwyższej jakości defektoskop UT.
GE Krautkramer Industrial Tank Series
GE Krautkramer Industrial Tank is a flexible multipurpose Ultrasonic Immersion tank, designed for production where a high quality NDT demand is combined with robustness and high volume scan needs.
With an up to 5 axis configuration the GE Krautkramer Industrial  tank makes NDT expertise being able to test many industrial components made of different materials; safety fences and light barriers make it safe. GE Krautkramer Lab tank are CE marked, EMC certified and fulfill SEP1927 standard for the determination of the macroscopic degree of purity of rolled/forged steel bars.
Laboratory tank are available in several sizes From 1000 × 380 × 380mm up to 4000 × 2350 × 550mm:  the GE USIP40 multichannel conventional ultrasonic unit is equipping the system with its best in class ultrasonic quality, but Phased Array technique is also possible with GE UTxx modular Phased Array electronic.
GE Krautkramer Robotic Tank Series
GE Krautkramer robotic tank is a highly flexible and programmable tank to cover most of the industrial application in terms of UT, with a high and compact design to have probes following the surface of the part or the part being moved in front of a fixed probe; dimensions can vary from a 750x500x350 to 4000x1000x1000 and may be combined with turntable, rollers.
The GE Krautkramer tank can be made using conventional UT with GE USIP40 or Phased Array with GE UTxx modular electronic, so all UT demands can be fulfilled in a simple mechanic/UT electronic combination.
GE CHAT – Compact Hollow Axle Tester
GE CHAT is the most compact portable automated solution available in the market for the ultrasonic inspection of rail hollow axles, designed both for production and service.
GE CHAT system allows a significant productivity increase compared with the manual inspection of hollow axles, and allows recording of parts traceability covering a diameter range from 30 to 90 millimeters (granting a ±0.5 mm tolerance from nominal diameter).
GE CHAT high level and user friendly software ensures  full A-scan data recording, C-scan displays (separate or merged with TOF correction), and two motorized scanning axes, CHAT offers a typical inspection time of 12 to 15 minutes for an entire axle.
The arrangement of electronics and mechanics in a light-weight plastic trolley ensures fast and reliable, one-man inspection of hollow rail axles, and provides protection against electrocution in subways where electrified rails are present.
GE Krautkramer Plate Trolley BRM3-Series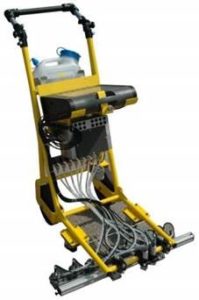 Heavy plates are to be tested for discontinuities, such as laminar defects and coarse inclusions. BRM 3 series, a multi-channel trolley, allows carrying out manual statistical tests (grid tests) of the entire plate surface. Thanks to the swivel-mounted probes, complete 100% testing of the plate edges is possible.
The GE plate trolley BRM 3 series is a multi-channel tester for manual plate inspection. It is typically used for heavy-plates inspection within 6 - 80 mm wall thickness but can be used for other applications which require fast testing of large flat surfaces. The BRM 3X version is working with up to five GE SEZ 5RxR4 probes, consisting of one wide transmitter and four receivers.  One GE SEZ 5RxR4  probe can inspect a strip of 50 mm width, and so by connecting of every two receiver probes to one receiver channel at the instrument, up to 5 probes can be used with the 10-ch version of USIP 40, allowing to cover 100% a strip of 250 mm width.